Berta Cáceres: seven men convicted of murdering Honduran environmentalist
Indigenous campaigner Cáceres, 44, was shot dead in 2016
Four also guilty of attempted murder of Mexican activist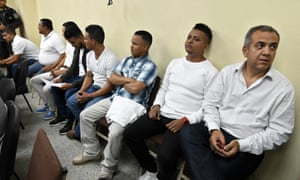 Seven men have been found guilty of conspiring to murder the Honduran indigenous environmentalist Berta Isabel Cáceres. An eighth defendant, Emerson Duarte Meza, was cleared and freed on Thursday.
Cáceres, a winner of the Goldman prize for environmental defenders, was shot dead on 2 March 2016 – two days before her 45th birthday – after a long battle to stop construction of an internationally financed hydroelectric dam on the Gualcarque river, which the Lenca people consider sacred.
Seven men were convicted of murder by a court in Tegucigalpa on Thursday: Sergio Ramón Rodríguez, the communities and environment manager for Desa, the company building the dam; Douglas Geovanny Bustillo, the former Desa security chief; Mariano Díaz Chávez, a former US-trained special forces major who served in the army with Bustillo; Henry Javier Hernández, a former special forces sergeant who served with Díaz; Edwin Rapalo; Edilson Duarte Meza; and Oscar Torres.
Gustavo Castro, a Mexican environmentalist, was shot in the same attack but survived by playing dead. Hernández, Rapalo, Edilson Duarte and Torres were found guilty of the attempted murder of Castro. The other three defendants were found not guilty of that crime. In closing arguments, several defence teams had argued that the attack on Castro amounted only to assault as his injuries were not life-threatening.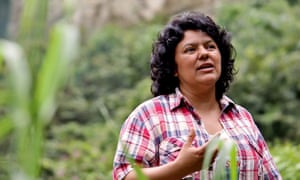 Cáceres, the coordinator of the Civic Council of Popular and Indigenous Organizations of Honduras (Copinh) was best known for her defence of indigenous territory and natural resources, but was also a respected political analyst, women's rights defender and anti-capitalist campaigner.
Her murder became a litmus test for a country where corruption and impunity reign – and for a justice system which has received millions of US and European dollars of international aid.
But the criminal case has been plagued by allegations of negligence, secrecy and bias.
The crime scene was contaminated before the forensic team arrived, and none of the bloody footprints left behind were identified. Two police officers have been charged with falsifying evidence in the case, which they deny. In October 2016, the original case file was stolen from a judge's car after an apparent carjacking.
Thursday's verdict is unlikely to satisfy Cáceres's family, colleagues and international legal observers who have frequently decried the narrow scope and secrecy surrounding the official investigation.
In a highly contentious decision, lawyers representing the family and Castro were expelled from proceedings shortly before the trial started after calling for the judges to be recused for bias and abuse of authority.
Over the course of the five-week trial, much of the evidence presented to the three judges was documentary, and admitted without being read in court, making it difficult to evaluate the strength of the case against each defendant.
At one point, the trial was suspended for several days, but the court was reconvened a day early without informing the press, international observers, diplomatic representatives or the victims. Key phone data was presented to a virtually empty public gallery. Video transmission was banned in this case.